Five Things to Love About Fall Golf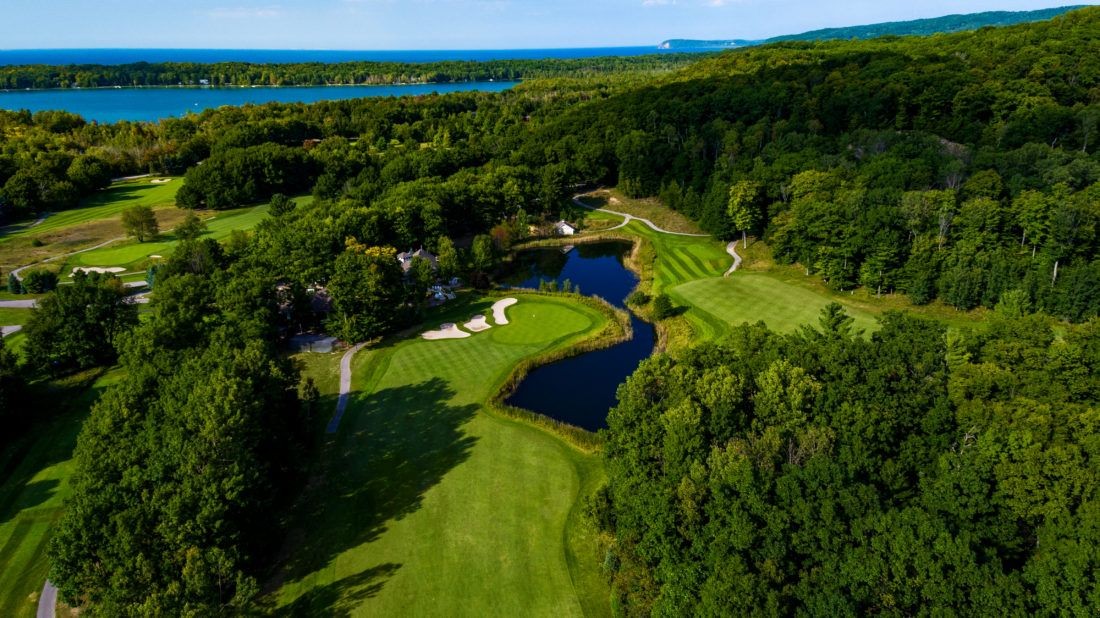 Nothing beats the colorful scenery and the end-of-season rates are great. Just two of the reasons why autumn is the best time of year for golf. Read on and grab some of the joy and late-season advantages you can only find in fall.
SCENERY THAT POPS

Manitou Passage Golf Club is the only 18-hole golf course in the heart of the Sleeping Bear Dunes National Lakeshore—an autumn destination for millions who make an annual trek here just to be gobsmacked by the crisp, fall colors. Book a round of golf, and you get to play against this vibrant backdrop of fall foliage, wooded hills, and spectacular views of the "Best Beaches On The Great Lakes." Wildlife, too, is on the move in fall with deer fattening up before winter. Sleeping Bear also sits along a major migration corridor for waterfowl and songbirds that use the course's woods and rough as comfortable place to layover during the trek south.
RATES THAT DROP
The northern Michigan summer golf season unofficially ends when the kiddies of downstate parents head back to school. This means some seasonal price drops at Manitou Passage Golf Club after Labor Day, with another rate drop coming again after October 1st. If you have some flexibility and prefer to play on the days/times when the fewest people will be on the course, just call the Manitou Passage clubhouse at 231.228.6000 or book online here. Get our staff to look ahead at the upcoming schedule and book a tee time on the quietest day.
AWESOME FALL WEATHER
In sitting so near to the beautiful Lake Michigan shoreline, the morning/evening air gets pleasantly crisp at the Manitou Passage Golf Club in September and October. Daytime temperatures typically warm, giving way to gorgeous short-sleeve weather without the sticky humidity.
PRISTINE COURSE CONDITIONS
After months of meticulous grooming and care, the Manitou Passage Golf Club is at its best shape of the year come fall. Enjoy greens and fairways that run fast and firm. The club takes great care to never overbook, which combined with the time of year means the real possibility of golfing an entire round without ever seeing another soul.
PLAY AT YOUR PEAK
Course conditions aren't the only thing in top condition. After playing all summer, your game is also likely to be in the best shape of the year. So bring your game, let Manitou Passage Golf Club deliver the perfect autumn setting, and close out the year on a high note with your lowest score of the year.
By accepting you will be accessing a service provided by a third-party external to https://www.manitoupassagegolfclub.com/